Aerial Technology Directs Archaeologists to Idumean Structure
Bible and archaeology news
Samuel Pfister • 12/06/2017
The archaeologist's toolbox of gadgets is always expanding. While excavations could previously rely on pickaxes, trowels, and buckets, now archaeologists are adopting the latest technologies, like ground-penetrating radar to detect buried architecture, CAT-scans to examine mummified remains, and aerial and satellite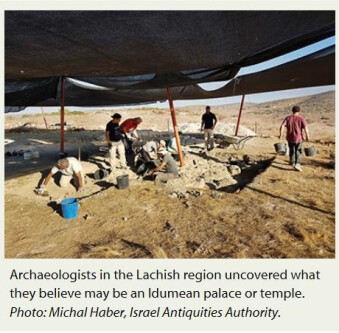 photography to survey patterns and data across broad landscapes. Use of digital technologies in the field has not only increased archaeologists' ability to examine and interpret the past efficiently, but has also helped to curb the destruction of archaeological sites by the excavation process.
A research project led jointly by the Israel Antiquities Authority (IAA) and the Hebrew University of Jerusalem is utilizing camera-equipped drones to survey the land in between Beit Guvrin National Park and the town of Amatzia. During the course of aerial photography, drones captured evidence of a buried structure at the site of Horvat 'Amuda about 15 miles south of Tel Lachish.
Excavation of Horvat 'Amuda was carried out in September by the IAA and students from Hebrew University, Bar-Ilan University, and the United States with funding from the Beit Lehi foundation. Drones can be useful for seeing buried features from a new perspective, and according to the IAA, the use of aerial photography greatly assisted the team in the process of excavation.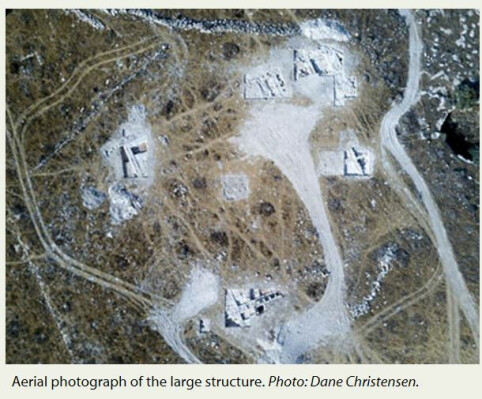 "This technology helped us choose where to focus our excavation probes," said excavation directors Oren Gutfeld, Pablo Betzer, and Michal Haber in an IAA press release. "It very quickly emerged that this was in fact a unique discovery."
The archaeologists discovered an impressive 2,200-year-old structure dating to the Hellenistic period. Inside of what the researchers are calling a palace or temple were two incense altars, one of which depicts a painted relief of a bull. The archaeologists claim that this bull may have been a motif of a deity of the Idumeans—also known as Edomites, an ancient population originating in southern Jordan who resettled in the Judean foothills during the late Persian period.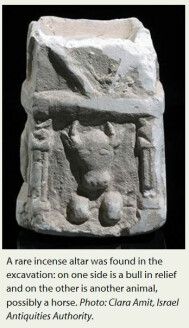 Also in the structure archaeologists discovered beautiful painted bowls, juglets, and oil lamps associated with the incense alters.
The archaeologists posit that Horvat 'Amuda was likely a village closely associated with the Idumean city of Maresha. Gutfeld and others found that the temple or palace had been dismantled in antiquity and postulate that the destruction dates to the conquest of the Idumeans by Hasmonean King John Hyrcanus I, who in 112 B.C.E. razed Maresha and assimilated the local populations into the Kingdom of Judah.
The excavations also revealed subterranean baths, oil presses, and dovecotes associated with the temple above.
Underneath the structure, archaeologists also discovered later tunnels and passages that date to the period of the Jewish revolts against Rome and are thought to have been constructed by Jews escaping persecution. One tunnel contained a cooking vessel that dated to the period of the Bar-Kokhba Revolt (132–136 C.E.).
According to the IAA press release, the archaeologists are hopeful that continued excavations in the spring will remain fruitful and uncover more of the story of the site.