Archaeological Dig Uncovers Byzantine Church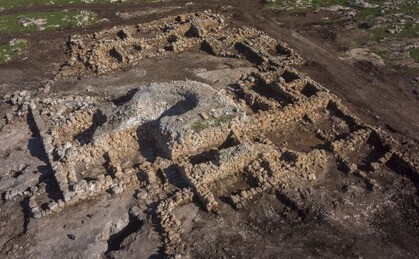 Archaeological Dig in Central Israel Uncovers
Byzantine Church and 2700-Year-Old Farm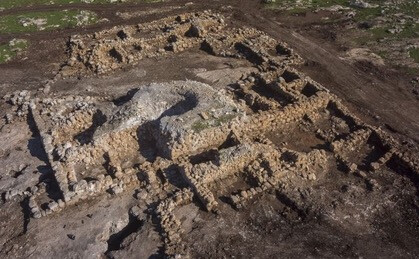 Archaeological digging near the central Israeli city of Rosh Ha'Ayin has uncovered a 2700-year-old farm house and a 1500-year-old Byzantine church in recent days, the Israel Antiquities Authority reported on Wednesday.

The approximately 30X50 meter farmhouse and the church, which features colorful mosaics, were discovered as part of excavations being carried out by the IAA with the help of students ahead of the ground-laying for a new neighborhood in Rosh Ha'Ayin.

The director of the IAA excavation project, Dr. Amit Shedman, said that the farmhouse consisted of 24 rooms, built around a central courtyard.
A large granary was found in the courtyard. "It seems that carbohydrates were popular then just like today and cereal growing was very common in agricultural communities in the area," Shedman said. The dig also uncovered stones for grinding wheat and flour, as well as an olive press.

"Among the remains of the farmhouse we found, among other things, two silver coins from the fourth century BCE, which bear the likeness of the Goddess Athena and the nocturnal bird of prey, Cos.

According to Shedman, the farm, and others like it,operated for hundreds of years until the area was abandoned in the Hellenistic period. Hundreds of years later, during the fifth century CE, the area was hit by a period of drought which changed the landscape.

At the same time, Christianity was beginning to spread in the area, bringing with it churches and monasteries, according to Shedman. On one of the hills in the area, the excavation uncovered a Byzantine-era monastery which included a church, an olive press, dormitories and a stable with a manger and water trough.
The floors of the church were made of a colorful mosaic of geometric shapes and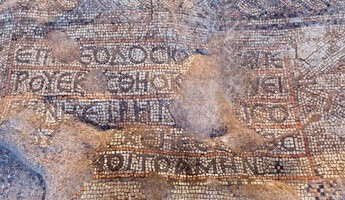 Greek writings about a priest named Theodeus (a common name in the period). "This place was built under the Priest Theodeus. Welcome to those who come, and good tidings to those who leave, Amen," the mosaic reads.

Hundreds of years after the monastery ceased operations, in the Ottoman period, a lime kiln which was used on the grounds destroyed large areas of the monastery, according to the IAA.

The antiquities discovered in the excavation will be preserved at the sites and will be opened for public display, the IAA stated.