Isaiah's Signature Uncovered in Jerusalem
Evidence of the Prophet Isaiah?
Megan Sauter • 02/22/2018
he Assyrian king Sennacherib responded to Hezekiah's rebellion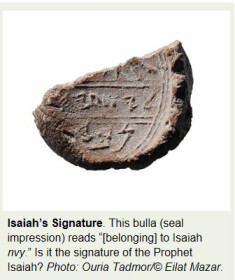 with force. He campaigned against Judah—destroying many Judahite cities, such as Lachish (depicted on the Lachish reliefs, panels from Sennacherib's palace in Nineveh, now on display at the British Museum in London), and ultimately besieging the capital city of Jerusalem in 701 B.C.E
The prophet Isaiah said that Jerusalem would not fall to the Assyrians, and it did not—despite the Assyrians' military might. This victory helped solidify the idea of the city's invincibility. Even on the Sennacherib Prisms, where King Sennacherib recorded his victories, he never claims to have conquered Jerusalem—only to have besieged it, received tribute, and locked up Hezekiah "like a bird in a cage." 2 Kings 18:13–19:36 records that the Assyrians continue to assault Jerusalem even after Hezekiah pays them tribute; they do not withdraw until God sends a plague among them. The Sennacherib Prisms make no mention of a plague.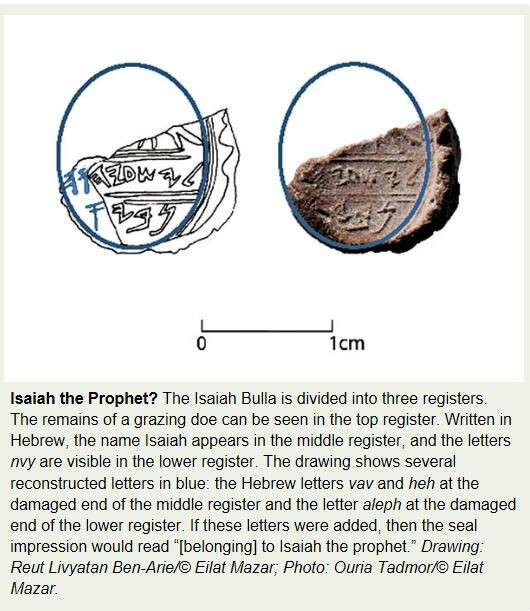 The seal impressions of Isaiah and King Hezekiah were found less than 10 feet apart in the Ophel excavations. If the recently identified bulla does indeed bear the prophet Isaiah's signature, it seems fitting that it should be found so close to Hezekiah's personal seal impression. Their legacy—together—continues even after death.
Learn more about Isaiah's seal impression in Eilat Mazar's article "Is This the Prophet Isaiah's Signature?" in the special March/April/May/June 2018 double issue of Biblical Archaeology Review.
Read more about this at Biblical Archaeology Review