Pope Francis with PA Chairman Mahmoud Abbas - Reuters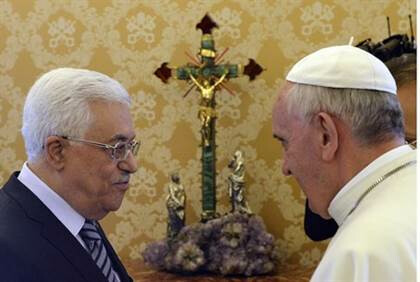 Pope Francis to visit Israel
May 19, 2014
Pope Francis with PA Chairman Mahmoud Abba
Palestinian Authority (PA) and Arab Christian sources are already celebrating Pope Francis's visit to Israel starting next Sunday, saying his choice to begin the trip directly in PA-held Bethlehem is meant to "recognize Palestine" and "oppose the occupation."
"He is taking a helicopter directly from Jordan to Palestine - to Bethlehem. It's a kind of sign of recognizing Palestine,"Father Jamal Khader of the Latin patriarchate in Jerusalem told AFP.
The claims that his trip will begin in a "recognition of Palestine" comes amid reports from February by Rabbi Sergio Bergman, a member of the Argentinian parliament and close friend of Pope Francis, who said that the pope intends to define himself as the "Che Guevera of the Palestinians" and support their "struggle and rights" during his visit.
In Bethlehem the pope is to travel in an open-top car and meet with PA Chairman Mahmoud Abbas, holding "mass" prayer services there instead of in Jerusalem in what has been called a show of support for the PA.
It has been noted that the pope has been remarkably tight-lipped over the violent persecution of Christians in Bethlehem, instead choosing to condemn alleged Jewish "price tag" vandalism.
After the "mass" services, the pope is to visit a nearby "refugee camp."
"Knowing who he is, and his sensitivity for all those who suffer, I am sure that he will say something defending all those who are suffering, including the Palestinians who live under occupation," Khader said.
A visit to "end the occupation"
The political aspects of the visit were highlighted by Hind Khoury, a former PA minister for Jerusalem affairs, who said "everything will be highly charged politically."
"This visit will help us in supporting our struggle to end the longest occupation in history," said Ziyyad Bandak, Abbas's adviser for Christian affairs.
Bandak noted that the pope "will have a lunch with Palestinians, with families suffering from the occupation...then he will visit Dheishe refugee camp to witness the suffering of Palestinian refugees."
The fact that "the pope will begin his visit in Palestine and not Israel," as Bandak put it, was meant as a slight to the Jewish state according to the PA official, who added "I know that Israeli officials are not happy with this decision."
"We welcome this visit and consider it as support for the Palestinian people, and confirmation from the Vatican of the need to end the occupation," concluded Bandak.