The 613 Mitzvot: 6-10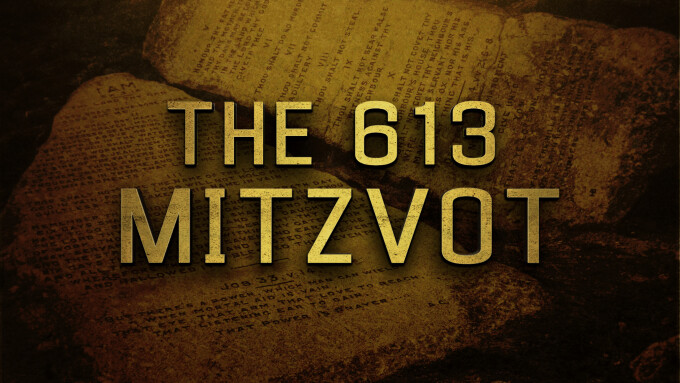 We are often asked to do teachings on the 613 commandments found in the Jewish faith. Understandably, such a teaching or teaching series would be an immense undertaking. However, we thought we may be able to go through it, at least in part, in our blogs. This is an ongoing blog series that we will do at different times without any real schedule planned. We will not be going into great depth in this series.
The format for these blog posts will be simple. We will cite a traditional rabbinic commandment as found in the AENT (Aramaic-English New Testament), provide the Scripture that it is supposed to be based from, indicate if we agree that it is a commandment we can do today or if it is one that cannot apply today and then why or why not. Then we will give a few notes or thoughts as to why believe it can or cannot be applied today. Last time we looked at the first five, this week we will take a brief look at five more.
Commandment: To Cleave to God
Deuteronomy 10:20 (ESV)
You shall fear the LORD (YHWH) your God. You shall serve him and hold fast to him, and by his name you shall swear.
Notes:
We agree with this and believe it still applies to us today. We are to cling to the Truth, to His Word, while rejecting the counterfeit. Anything not truth is a counterfeit and is not from our Creator, this includes man's doctrines and ways when used to replace or supercede God's ways.
Commandment: On Taking An Oath By God's Name
Deuteronomy 10:20 (ESV)
You shall fear the LORD (YHWH) your God. You shall serve him and hold fast to him, and by his name you shall swear.
Notes:
We agree this does still apply today. As a representative of the Word of God (under God's authority) our yes's should be yes, and our no's should be no's (Matthew 5:37, James 5:12). If what you say cannot be trusted, you are representing God and His people as ones that cannot be trusted. In so doing, you make His name (reputation and authority) appear to be worth nothing.
Commandment: On Walking in God's Ways
Deuteronomy 28:9 (ESV)
The Lord will establish you as a people holy to himself, as he has sworn to you, if you keep the commandments of the LORD (YHWH) your God and walk in his ways.
Notes:
We agree that we should be obedient to the instructions of the Father as much as we are currently able to. Walking in His Ways means keeping His commandments, His instructions, His Torah. For more on the way to live, please see our teachings titled "The Way" and "Grace, Faith, and Obedience: Understanding the Relationship".
Commandment: On Sanctifying God's Name
Leviticus 22:32 (ESV)
And you shall not profane my holy name, that I may be sanctified among the people of Israel. I am the LORD (YHWH) who sanctifies you,
Notes:
We agree this is a commandment that can and should be followed today. We keep God's name (shem = authority/name) set apart (sanctified) by keeping His commandments. When we break His commandments we take His name (authority) in vain (make it worthless). By keeping His holy (set apart) commandments it shows that we place ourselves under His authority and keeps His authority (name) set apart (holy). When we keep His commandments, the glory goes to Him because we are humbling ourselves under Him and the world sees that. We cannot follow the world's ways and still claim YHWH….that profanes His name.
Commandment: On Reciting the Shema Each Morning and Evening
Deuteronomy 6:7 (ESV)
You shall teach them diligently to your children, and shall talk of them when you sit in your house, and when you walk by the way, and when you lie down, and when you rise.
Notes:
We disagree that reciting the Shema every morning and evening is a command from the Creator. In this Scripture He's speaking about ALL of the commandments, not just the Shema. Would we recite and teach the commandments twice a day? Obviously not. It's intended to summarize it all. Saying the Shema twice a day is a nice tradition, but not a commandment. The true commandment is intended to teach us that His commandments are to be everything we think and do. His instructions should always be on our minds from the time we lay down until the time we go to bed, every nanosecond of our life.
We hope this has helped bring a little clarity to the second set of five commandments and their applicability to our lives today. Aside from ourselves, keeping the cultural understanding and Scriptural context are our greatest obstacle to understanding, and thus obeying, the ways of our Creator. Each day we must choose whether to obey or disobey thereby choosing whom we are serving.

Shalom