What is Faith?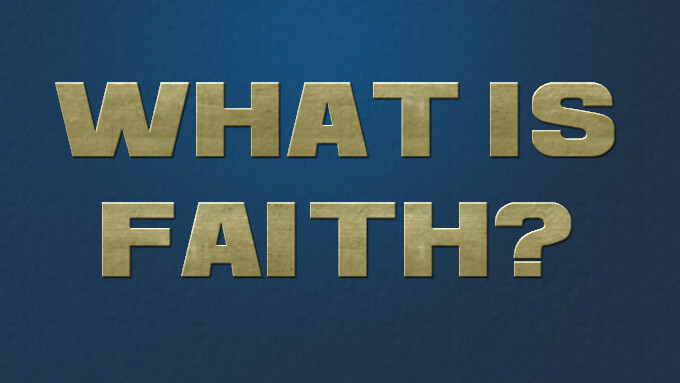 In the Torah study called Lech Lecha, as found on our website, there is a great thread relating to faith and the salvation process in the New Testament portion. A picture of how it all works was painted for us if we stopped and took the time to put it together. We'll review this in the coming blog post. Today, we're going to focus first on what faith is, according to Scripture.

We'll start with Hebrews 11:1. While this verse was not in the Torah Portion specifically, part of chapter 11 was covered and this was part of the context of the section. Hebrews 11 is often referred to as the "Faith" chapter as there are great examples of God's people living out their faith given here.
Hebrews 11:1 (ESV)
Now faith is the assurance of things hoped for, the conviction of things not seen.
Many are familiar with this verse as it's a definition of faith, but it's not often taught in context. Having an assurance of things hoped for does not simply mean that we can have a hope for something like a child wanting a pet rabbit or the latest new toy on the market. This is not simply referring to something that we want or desire. If we look contextually within this chapter, the things that the great men of faith "hoped for" were things promised by the Creator to come to pass. Yes, the individuals may have had a hope for them in the future, but that hope doesn't require faith. Faith gets tied to the promises that such things will come to pass.

We know that Abram hoped to have an heir that was natural-born, his physical heir instead of from a relative. We don't see that Abram believed YHWH for this heir; we see him asking for it. It was not until YHWH promised him the heir that his faith was required.
Genesis 15:1-3 (ESV)
After these things the word of YHWH came to Abram in a vision: "Fear not, Abram, I am your shield; your reward shall be very great." But Abram said, "O Lord Elohim, what will you give me, for I continue childless, and the heir of my house is Eliezer of Damascus?" And Abram said, "Behold, you have given me no offspring, and a member of my household will be my heir."
Do you see how this is working? Abram was promised a reward based on events in Genesis 14; he asked YHWH what it would be and then stated his desire. There is no faith being shown or executed here. He was simply relaying to YHWH his desire to have an heir from his own household. There is no assurance for Abram of his "hope" to have an heir at this point. This comes after the promise given by the Creator.

Genesis 15:4, 6 (ESV)
And behold, the word of YHWH came to him: "This man shall not be your heir; your very own son shall be your heir." 6 And he believed YHWH, and he counted it to him as righteousness.
We see with verse four how Abram receives the promise and then in verse six Abram believes that promise; he now has assurance that his hope will be realized some day. He did not have faith for an heir before YHWH promised it to him.

What this shows us is that the definition in Hebrews 11:1 is really teaching us to have faith in the Word of God; believe it because it truth. It is in the Word that we place our hope. This is echoed repeatedly throughout Psalms.

Psalm 62:5 (ESV)
For God alone, O my soul, wait in silence, for my hope is from him.
Psalm 130:5 (ESV)
I wait for (YHWH) the LORD, my soul waits, and in his word I hope;
Psalm 119:81 (ESV)
My soul longs for your salvation; I hope in your word.
Psalm 119:74 (ESV)
Those who fear you shall see me and rejoice, because I have hoped in your word.
Psalm 39:7 (ESV)
And now, O Lord, for what do I wait? My hope is in you.
The Creator even tells us that what He tells us will come to pass; what He says is truth.
Isaiah 55:11 (ESV)
so shall my word be that goes out from my mouth;
it shall not return to me empty,
but it shall accomplish that which I purpose,
and shall succeed in the thing for which I sent it.
Jeremiah 1:12 (ESV)
Then the Lord said to me, "You have seen well, for I am watching over my word to perform it."
So what is faith according to Hebrews 11? Faith is: the knowledge that what has been told/spoken/promised will come about; it is the strong belief (firm conviction) of things not yet realized (come to fruition) in our lives.

We believe true faith has a bit more to its full definition based upon Hebrews 11:1, Hebrews 11:6, and James 2:18.

Faith is: believing that everything God said is true, committing to follow what it says, and then doing what the Word says. In other words, believing/trusting, committing to obey, and then obeying/doing it.
Another way we say it is: Faith is the believing, committing and trusting in God and His Word.

Now that we have a firm grasp on what faith is Scripturally, next time we will move into how the Torah Portion Lech Lecha paints us a great picture of how faith works in relation to the salvation process.